New April 4th!!!
There's not much coming to theaters this weekend. There's another Jennifer Aniston dullard whose only perks are its costars. Catherine Keener and Francis McDormand may aid in making Friends With Money almost watchable, though probably not. It seems apt that the first megastar Romantic comedy of the year was titled Failure To Launch.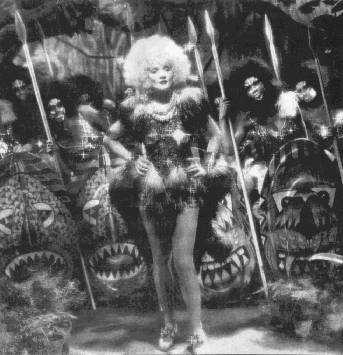 Out this week on DVD is a very inexpensive (let's hope this does not mean cheap in production, as well) 5 film, 2 DVD set of films starring Marlene Dietrich. The horribly named Marlene Dietrich: The Glamour Collection arrives via MCA Home Video. Featuring stellar gems like Von Sternberg's Morocco, Blonde Venus (pictured right) and The Devil Is A Woman and lesser non-Von Sternberg films Golden Earrings and The Flame of New Orleans, this collection marks the first time any of these films have arrived on DVD on this side of the Atlantic. This one is a definite purchase best appreciated after reading Underground filmmaker Jack Smith's article on the films of Von Sternberg which can be found here.
And in West Hollywood, store owners are going to have to beat off rabid costumers with large sticks as Brokeback Mountain hits store shelves everywhere. Now you too can freeze-frame your way through nude scenes, or you could be the only person actually watching the film in the privacy of your own home.
Among other things, a new DVD of the classic (and recently reviewed here) comedy, 9 to 5: The Sexist, Egotistical, Lying Hypocritical Bigot Edition. The DVD boasts a feature commentary with Jane Fonda, Dolly Parton and Lili Tomlin. I wonder how they wrangled that?
The World's Greatest Lover, a film by and starring Gene Wilder gets a DVD release - though it only appears on this website because it costars the wonderfully frightening Carol Kane.
Lastly, though I never plug music here, Massive Attack's new Best Of collection, the appropriately titled, Collected deserves definite props. The Special Edition features a second double-sided disc. Side one, rare and unreleased tracks, two of which feature the lovely vocal dabblings of Cocteau Twins' Elizabeth Fraser. Side two of the disc (and the pertinent bit to this post) is a collection of ALL of their videos from Daydreaming to the two video versions of their new song Live With Me. Check out their wonderfully designed website for the release here