Jones'd
Last night, inspired by a 2004 performance I caught on You Tube of Slave To The Rhythm, I watched Grace Jones' One Man Show. It's a video that's far more concept than concert, and all the better for it. Taking cues from Bowie and Kraftwerk, Jones' performance is just that. Not one song is sung without a great consideration paid to its performative promise. When 'Walking in the Rain' begins, the fierce creature who has just transitioned from a cymbal demolishing maniac must look to the sky at the thunderous lightning crashes. She transforms.
Jones is no stranger to performance. It could easily be claimed that her whole life is one big performance. She certainly still keeps the headlines busy - slapping train station attendants and baring her breasts at Disneyworld. And though concept performances existed before Jones, there was something so severe about the persona she had created, particularly when considering the increasing effects of post-colonialism. Jones not only questioned what it was to be female, she treated those feminine conventions (among many other stereotypes)like a cat would a bird. Finally, the obliterated convention was overturned for Jones' persona - certainly more anima than animus.
A One Man Show coincided with the release of Jones' Nightclubbing LP which contained her biggest hit, 'Pull Up To The Bumper.' Still collaborating with her paramour/stylist, Jean-Paul Goude, Jones' assembled the show as a free flowing set of performance pieces. The video starts with flashes of her previous incarnations as seen through the lens of Goude's camera. After a title flashes across the screen, an ape is held in spotlight atop a large, spare staircase. She wears a cymbal on her head and bright red lipstick. She rolls the snare drum which is affixed at her side. Of course the scene is an obvious musical referent to Dietrich's famous performance of 'Hot Voodoo' in Josef Von Sternberg's Blonde Venus. Jones' ape is considerably "prettier" which provides an even greater divide between the mask and the masked. Dietrich's ape was beastly because she was the absolute antithesis of beastly. Jones' ape is more a pet who is made savage by the revelation that she is human. Taking the dichotomy theaticized by Dietrich and subverting it as a comment on racial generalizations, the opening moments of A One Man Show prove rich with interpretive meaning.
This leads into 'Warm Leatherette.' A Jones lookalike peels the ape skin from her body and jumps to the top of a yellow industrial cherry picker. As the machine lowers the alternate Jones to the ground, we encounter another Jones positioned amid cymbals on stantions. This "real" Jones stands poised, arms above her head, with a drumstick in each hand. The mallets crash on the cymbals and replace the "Warm" in 'Warm Leatherette.'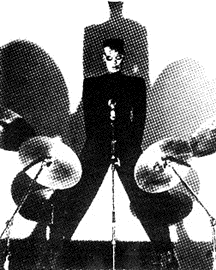 In 'Feel Up,' the musicians sit in a line on stage, all donning Grace Jones masks. We watch various Joneses beat drums and strum guitars all with the same mechanical movements - imagine a row of cymbal clapping monkeys. Again, the "real" Jones is finally shown to the side - just one in the procession. She dramatically beats a drum slowly slipping from her neutral facial features (so as to resemble all of the other Joneses), becoming more severe and maniacal, spitting the lines of her improvised rap. It is something pulled straight from the pages of Baudrillard's 'Precession of the Simulacra' as the celebrity becomes second to those look-alikes which surround her. That the lookalikes are men only aides in the richness of Jones' performative prowess.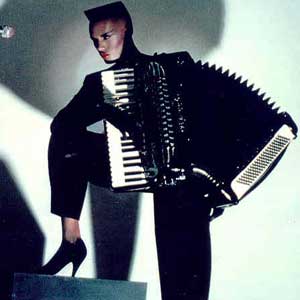 Perhaps the main highlight of the video lies in Jones' performance of 'La Vie En Rose.' Her first hit was released before Jones' transformation via Goude. What was initially yielded as traditional Disco with Jones crooning over twinkling pianos and lite-strumed guitar, here suffers no alteration in terms of musical arrangement, yet Jones, aware of the disconnect in stylistic presentation, performs the song with a schizophrenic glee. She begins the song with what has become her trademark vocal delivery. She angrily speaks the lines of one of France's greatest love songs. Fans of the original version might at first believe she is ruining it, yet as the song progresses, our chanteuse slips mid-phrase into the soaring vocals that originally accompanied the song. Vocally teetering between vengeful force and complete amorous devotion, the performance becomes a duet in a single mind. Of course the crooning rapture of Jones' Disco delivery is the wanted version, it all the more cherished because coldness of her initial approach to the song.
A fantastic rendition of 'Demolition Man' and 'Pull Up to the Bumper' follow, then the video begins to lose steam as the live performance footage is primarily replaced by music video footage. 'Private Life,' 'My Jamaican Guy,' 'Living My Life,' and 'Libertango (I've Seen That Face Before)' all appear as isolated music videos - the latter two being the most memorable, showing Grace in a giant polka-dotted dress in no way dissimilar to those upside-down salad bowls the Pet Shop Boys wore on their heads in the promo video for 'Go West.' In opening moments of 'Living My Life,' Jones emerges from within the giant dress only to point a pistol to her head and pull the trigger. A group of similarly clad dancers disseminate and Jones whirls about inside the spinning dress. 'Libertango (I've Seen That Face Before)' closes the video with Grace, masked in sharply pointed fluorescent appendages, removing one piece after another. Transformed, a suit clad and mask free Jones clutches an accordion screaming the French lyrics of the song. As the camera pans out, we find Jones on a New York City rooftop, surrounded by applauding white be-gloved fans whom all have similar hats upon their heads.
Though I am certainly no expert when it comes to theatrical performance, Camp gesture and theoretic analysis are certainly on my side. And these are the capabilities that left me slack-jawed last night, only to hit play again and experience that whole thing once more. I have always adored Grace Jones, and this is why. There are no easy answers in her self (which I present here as standing for her music, the performance of her persona and her film roles - which, more often than not, are an extension of that persona). Jones refuses to abide by any typical moniker (perhaps other than crazy) making her one of the most complexly created media personalities of our time. It is rumored that a comeback is in the works. Please, Grace is just what this world needs.